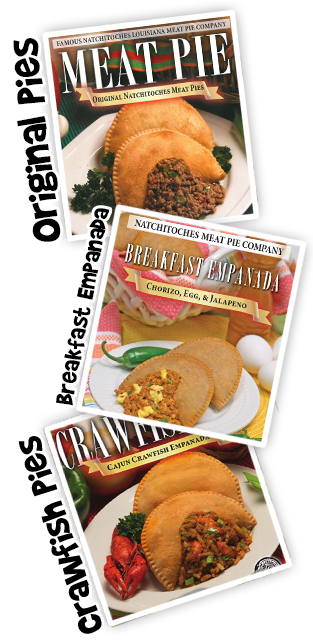 Meat Pies (Empanadas)
Famous Natchitoches, LA Meat Pies, Inc. (better known as Natchitoches Meat Pies) has been in business for over 30 years, perfecting our unique empanada (crescent filled pastry). We started in 1982 with the original beef and pork meat pie and continued to add different pies to meet the ever growing demand for new flavors.
The state crustacean is always in large demand in Louisiana, so we added our crawfish pie in 1990. This local favorite continues to grow in popularity regionally and nationally as curious "seafood" lovers try it and discover why Louisianans have been enjoying crawfish for generations! Once people got hooked on our "lunch" and "dinner" meat pies, we felt the need to meet the burgeoning demand for a "breakfast" pie, hence the chorizo with egg & jalapenos for the more daring palate. For those who don't eat pork we offer our lean beef only (New Orleans Style) pie. The mini pies are typically served as snacks or appetizers, while the original big pies make a great entrée.
We continue to add pies as our ever-growing and much appreciated customers' desires dictate. We now offer fillings, flavors, styles & sizes for nearly every occasion, setting, meal & course. It's no coincidence many of the cooks finding fame on the popular TV food shows are from Louisiana. Taste the original Louisiana empanada, the Natchitoches Meat Pie, perfected and produced right here in Coushatta, LA. We're confident you'll love it!
Like us on Facebook!